Waiata
Singing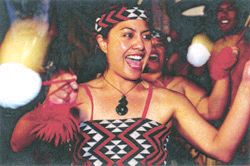 Singing is a very important and vibrant part of Māori culture. Māori frequently sing together - whether it be solo or in a group, with guitar or otherwise.
It is never a surprise when a guitar comes out in a social situation!
Māori songs each have their own story to tell, and always provide content both meaningful and melodious.
For example, on one occasion I had the pleasure of being able to attend the 65th birthday party of a Māori friend's relative. There, a number of songs were sung in celebration and tribute by his family and friends, including a solo performance by his elderly mother!
One of the ways Māori come together is through song.
Songs are frequently accompanied by actions, such as dance, and the use of poi poi.
Opposite is a picture of a Māori Kapa Haka group.
Can you see the women's moko?