North Island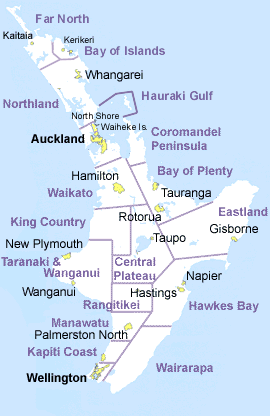 I live in the North Island of New Zealand - in Auckland. Auckland is by far the biggest city in New Zealand, having over a third of the whole population living there.
Whilst Auckland is far and away the biggest city, it isn't the capital! Wellington is the capital of New Zealand - at the bottom of the North Island.
There are historic reasons for this.
In the far north of the North Island you have vast unspoilt tracts of forests and beaches. There's a page about my trip around the Northland region of the North Island, which includes a more detailed map. There's also a page about Waipoua forest.
These are volcanic islands, and whilst there hasn't been any volcanic eruptions for some time, there are many active volcanoes around. Rotorua is one of the best places to visit to see evidence of this. You can see geysers, bubbling mud pits and thermal waters (waters boiling from the heat of the earth). You can even visit a village that was buried when a volcano erupted some time ago.
The Bay of Islands is noted as being one of the prettiest places in the North Island, and in the far north you can visit Ninety Mile Beach.
That said, the Bay of Plenty, south of the Coromandel Peninsula is also very beautiful too...