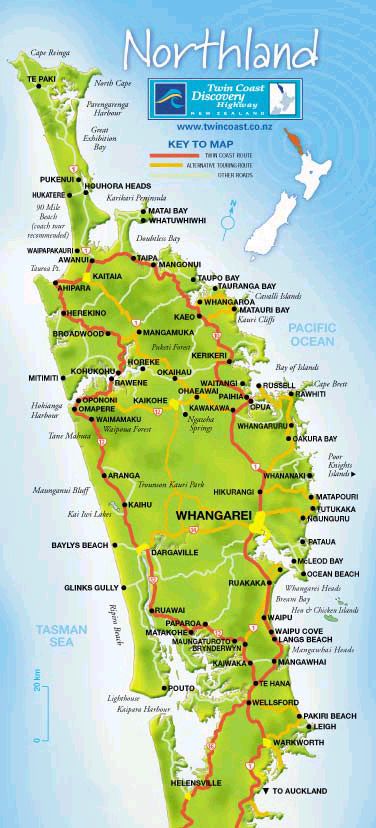 My friend Jenni and I took a trip around the New Zealand Northland via the Twin Coast Route - shown in red on the map opposite.

We began in Auckland, taking State Highway One, north towards Whangarei (the biggest city in Northland). We turned left at Brynderwyn, onto State Highway 12, towards New Zealand's 'Kauri Coast'.

We passed through Ruawai, a town where two rivers meet. In Māori, 'rua' means two, and 'wai' means water.

Towards Dargaville - at the heart of the Kauri Coast.

Dargaville grew initially as a timber town, but today farming has become the main industry. The dairying industry in particular has brought further prosperity to the rural hinterland of approximately 17,000 people, throughout the past century.

This once important river port thrived on the export of kauri timber and kauri gum (the sticky resin of the kauri tree) and the rich loamy soils of the surrounding countryside, enjoying a sub-tropical climate.

As the kauri forests were decimated, Dargaville declined for a time, but today it has become a busy service centre for the horticultural and agricultural Northern Wairoa area.

There are a number of 19th century buildings reflecting the town's history. Boutique type shops and cafes now flourish in some of these historic buildings, linking the old with the new.
One of Dargaville's major claims to fame is its being New Zealand's 'Kumara Capital', producing two thirds of New Zealand's kumara (sweet potato) crop.