Under Construction
The Site
The brief was to create a spectacular theatre in which to tell the story of human dependence on plants.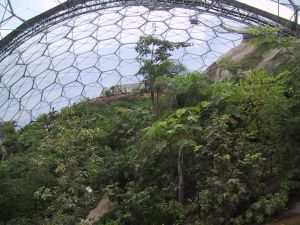 The team found a disused china clay pit, over 60 metres deep and the size of 35 football pitches, which was sheltered, south-facing and spectacular.
'An architect would fall over backwards wanting to build something in it,' said David Kirkland of Nicholas Grimshaw & Partners.
Jerry O'Leary, Works Manager, called it the biggest sand pit in the world.
The bad news: it was an inverted cone shape with little level ground, unstable, prone to flooding, and contained no soil.
The level of the bottom was raised 17 to 20 metres by slicing off the tops of the spoil heaps surrounding the pit.
Twelve dumper trucks and eight bulldozers shifted 1.8 million tonnes of dirt in six months.
Then, near-disaster: 43 million gallons of water (approx. 163 million litres) rained into the pit in three months.
Our engineers came up with the drainage system to end all drainage systems. It can easily handle the 22 litres/sec of water that runs into the pit (that's 20,000 bathfuls a day).
Dodgy slopes were shaved back to a safe angle and terraces chopped out. Two thousand rock anchors, some up to 11 metres long, were driven into the pit sides to stabilise them, and a 'soup' of plant seed and plant food sprayed on the slopes to knit the surface together.
The Biomes
The Biomes are the biggest conservatories in the world, beautiful, iconic and sustainable.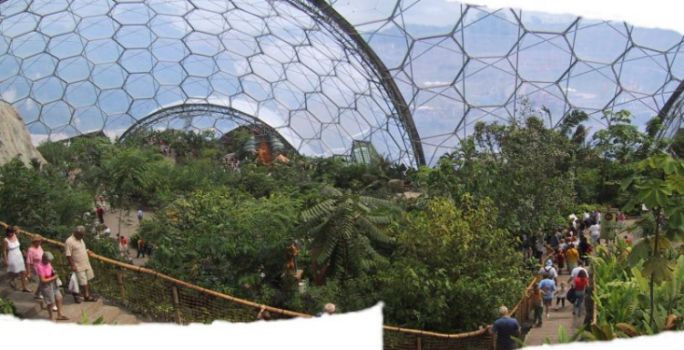 The Humid Tropics Biome, which could hold the Tower of London, is 11 double-decker buses high and 24 long, with no internal supports.
It made the Guinness Book of Records for the largest free-standing scaffold ever built - 12 levels, 25 metres across, with 46,000 poles, which laid end to end would stretch 230 miles.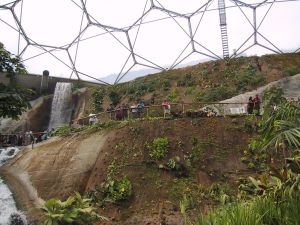 Building a lean-to greenhouse on an uneven surface that changed shape was tricky.
Bubbles were used as they can settle perfectly on to any shaped surface.
The bubbles were made of hexagons, copying insects' eyes and honeycombs. This commonsense nature produces maximum effect with minimum resources.
The Biomes' steelwork weighs only slightly more than the air they contain.
They are more likely to blow away than blow down, so they are anchored into the foundations with steel ground anchors: 12-metre tent pegs!